Your support is needed and is appreciated as Amigaworld.net is primarily dependent upon the support of its users.

The Amiga Future magazine - Issue 153 preview is now available to view online
News posted by AndreasM on 18-Oct-2021 14:50:37 (868 reads)
This is the full colour preview and excerpts of the Amiga Future issue 153 (November/December 2021) can now be viewed online on the Amiga Future website.

Some of the interesting articles in this issue are:

Interview Guido Henkel
Review Cybersphere - A Cyberspace Adventure
Review AmigaOs 3.2

Of course there's so MUCH more actually in the magazine.

Needless to say you often get other versions of software, often what was commercially available, as well as some of the latest try-outs or freely released software applications and games for, hopefully, all of the Amiga type Operating systems, so that's Amiga 'Classic', OS4, MorphOS, and AROS, including some PD software for these systems, all on the Readers' cover CD.

A detailed description of content and excerpts of this current issue can be found at: http://www.amigafuture.de/kb.php?mode=cat&cat=13

The Amiga Future magazine is available as an English and German printed magazine - every issue is available in FULL COLOUR - directly available from the magazine editorial office and also from various other Amiga dealers.

Caution!

We ask all Amiga Future subscribers to check whether we have the current postal address and email address of you.
The Amiga Future will be packed and shipped a few days before the release date. We therefore need a change of address as soon as possible.
Important: Requests for forwarding normally do not work with magazines!

We also ask you to check whether any subscription bills have already been paid. Unfortunately, many subscription bills are currently still unpaid.

Preview: https://www.amigafuture.de/app.php/kb/index?c=13
Orders: https://www.amigashop.org

https://www.amigafuture.de
http://www.apc-tcp.de


Post comment


A-EON Technology Ltd is pleased to confirm immediate availablity of the Enhancer Software Release 2.1.

This update is free to download for existing Enhancer Software V2 users from our Updater utility. A digital download edition can be purchased from AMIStore App Store.

It represents six months of hard work from the Amiga Developer Team demonstrating the commitment to our user base.

A large amount of new components have been upgraded and added in Release 2.1:


* Video Acceleration Library has been updated with bug fixes.

* Warp3D Nova has been updated with further bug fixes.

* RadeonRX driver updated to Version 2.8

* New Tabbed Gadget Class added with many great features such as draggable tabs. It replaces ClickTab in many of our applications.

* Archiver tool converted to use Tabbed GC with draggable tabs and a special [+] tab to create new tabs.

* InfoWB commodity has been further updated with shift and click toggling of tooltypes, tooltype toolbar, Find and Replace, Tabbed GC, Polish localisation and many bug fixes.

* X-Dock has a new array of features added to the Prefs such as button sorting, renaming docks, configuring separator look.

* New AK-Datatypes added: BMP and 8SVX

* New Datatypes Prefs added for managing the system datatypes

* Sound Prefs upgraded

* Sound Datatypes upgraded

* TuneNet has a new Visuals menu and a few more bug fixes.

* DOS Commands updated



Please click Read More for the full list of changes and screen shots

Special Thanks

The package has been the result of a small dedicated team who have committed great efforts to this body of work. A-EON would like to thank the developers, beta testers and translators for their significant contributions.





5 comments | Read more
Alinea Computer: OmniPort - Multiport Adapter for Amiga 1200
hardware Classic posted by AmigaPapst on 10-Oct-2021 16:47:54 (1742 reads)
We are pleased to announce the release of OmniPort - the multiport adapter for the Amiga 1200.

The OmniPort is a multiport adapter that guides different hardware interfaces of the Amiga 1200 desktop chassis cleanly through the expansion port. The interfaces are two USB, one HDMI and one MicroSD. In order to be able to use the respective interfaces in the OmniPort, the corresponding hardware must already be installed in the Amiga 1200. In addition to the OminPort board, the standard package includes an SD card grab with cable and a printed plate, which is available in different colours.

Read more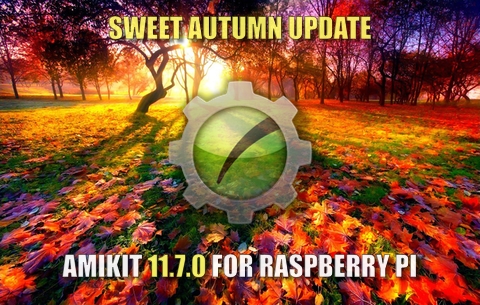 The well-known high-end Amiga emulation package has just been updated! www.amikit.amiga.sk/raspberry

The Sweet Autumn Update is increasing performance and security as well delivering a bunch of program updates.
It also includes 3 songs in memory of Paul van der Valk. Enjoy!


2 comments | Read more
Amiga Future monthly News September 2021
News posted by AndreasM on 27-Sep-2021 11:28:09 (723 reads)
6.9.2021
********
Amiga Future issue 152 released

The English and German issue 152 (September/October 2021) of the print magazine Amiga Future has been distributed today, and can also be ordered directly from the editorial office of Amiga Future, and the other Amiga dealers that stock the magazine.

Mag Content:

Review Bean versus the Animator
Review Turbo Tomato
Review Silk Dust

and so much more ... if you haven't already, get your collectable copy ordered today

A more detailed description of the contents and previews of this issue can be found at the Amiga Future magazine hompepage.

Information: https://www.amigafuture.de/app.php/kb/index?c=13
Orders: https://www.amigashop.org


9.9.2021
********
Amiga Future: Gamescom 2021 videos online

Also this year the Amiga Future was present at the digital Gamescom.

We contributed three videos to the event which you can now watch on our YouTube channel:

- AmigaFutureTV Gamescom 2021 - Amiga Gaming News
- AmigaFutureTV Gamescom 2021 - Interview Graeme Cowie
- AmigaFutureTV Gamescom 2021 - John Girvin

https://www.youtube.com/c/AmigaFuture
https://www.amigafuture.de
http://www.apc-tcp.de
Read more
"CyberSphere - a cyberpunk adventure" now available.
software OS4 posted by g0blin on 24-Sep-2021 16:29:14 (1031 reads)
"Cybersphere - A cyberpunk adventure" by GDG Entertainment has been released and it's available in a collectors edition at BitmapSoft.

CyberSphere is an icon-driven game developed with text adventures in mind. Explore a cyberpunk-themed world spreading across a fictional town, its undergrounds and the outer space above it to discover its secrets. Traverse the voxels-made environment using an icon-based mechanics instead of typing text.

You are a hacker living Chiba City, home of your online rides in the cyberspace and land of smugglers, fixers and data thieves. One day you wake up in your apartment with an abnormal and pounding head-ache. Your vision is blurred, you keep staggering and it's difficult to walk. Apparently, you have been out of business at least for a few days now, but you don't remember what happened since your memories are quite confused. From the fog, fragments of the recent past seem to emerge, yet words like "Blipvert" and "Family Project" bear no meaning to you.

What lurks behind them?

GDG Entertainment Official Page

BitmapSoft Collector's Edition Page
14 comments
Robin Hood Amiga Group is focused in the Parts of the UK Robin Hood used to roam. This time we are heading to a venue in Derbyshire, South Normanton. For the first RHAG (North) meet-up.
The date is the 2nd October 2021 (it's a Saturday) with a start time of 1030am.

Tickets are now available,We are building the space, but this is hopefully going to be a nice, fun social get together.Around our space are pubs, shops and food outlets.

There is parking across the road in the coop car park and we are just 5 mins away from J28 M1

Thttps://www.eventbrite.co.uk/e/rhag-north-meet-up-tickets-170521460278

Post comment
Airsoft Softwair, the hardest working men in code business, are proud to announce the immediate availability of Hollywood APK Compiler 4.0. The Hollywood APK Compiler is an add-on for Hollywood that allows you to compile your Hollywood scripts into stand-alone apps for Android, ready to be distributed via the Play Store!


1 comment | Read more
AmiWest 2021 update
Events posted by tekmage on 17-Sep-2021 16:09:56 (1000 reads)


AmiWest is the premier Amiga show in North America. Founded in 1998 this year represents our 24th year of continuous service. In that time AmiWest has been a key event for new product announcements and showcases for all things Amiga. Presented by the Sacramento Amiga Computer Club (SACC) in the beautiful Sacramento California between October 15th and 17th.

For 2021 the show will continue the traditions of AmiWest with all the elements of attendees have grown to love:

The latest information on what is happening in the AmiVerse.
The show hall featuring more than 10 exhibitors.
Twelve presenters participating both onsite and online.
Our Saturday evening banquet will truly celebrate the
AmiVerse with a feature called "Dueling Keyboards" and for those in attendance a surprise giveaway!
Unique comradery with other Amigans. It is the people who
make the show happen. What we do is provide the venue. Come join us and make the show happen
Live internet streaming via AmiWest Broadcast streaming

Yes, after a long hiatus the AmiWest raffle is back for 2021 with a few awesome changes. First, new for 2021 the AmiWest raffle will be open to the whole internet. Second, we have one of the best collections of items in show history. In place of picking up the items at the show, we will ship the items to the winners. All proceeds from ticket sales will go to supporting the raffle and future AmiWest shows. Oh, want to buy tickets? Then visit the Raffle page to purchase as many as you want.

For those who attend in person, AmiWest will respect all local health orders and requirements for local gatherings.

All the details on the internet streaming, live attendance, banquet, and raffle tickets can be found on the AmiWest home page.

4 comments
[ home ][ about us ][ privacy ] [ forums ][ classifieds ] [ links ][ news archive ] [ link to us ][ user account ]
Polls (Login to view/vote)