Your support is needed and is appreciated as Amigaworld.net is primarily dependent upon the support of its users.




Topic
Replies
AmigaOS 4.1 FE Classic Voodoo card do not work after UP1 and UP2
5
Packed Versus Planar: FIGHT (1, 2, 3, ... , 6)
110
MOS? (1, 2, 3, ... , 8)
143
Which CPU?
7
Don't "rainbow-wash" me bro! (1, 2, 3, ... , 21)
414
RISC V Laptop announced... Could this be the ultimate AMIGA hard... (1, 2, 3, ... , 6)
101
Updated Alien Breed 3D 2
3
Risc-V
17
Port AmigaOS 4 to x86 (1, 2, 3, ... , 18)
353
BOH updated
6
»» Recent Topics »» Visit Forums



The Amiga Future magazine - Issue 157 preview is now available to view online
News posted by AndreasM on 19-Jun-2022 11:40:59 (332 reads)
These comprise of the full colour preview and excerpts of our Amiga Future issue 157 (July/August 2022) which can also be viewed online on the Amiga Future website.

Some of the interesting articles in this issue are:

Review Juniors Great Adventure
Review Devil's Temple - Son of the Kung-Fu Master
Special Amiga 37

Of course there's actually so MUCH more in the magazine.

Needless to say you will often get other versions of software, some of which were commercially available, as well as some of the latest try-outs or freely released software applications and games for, hopefully, every Amiga variant of Operating system, so that's Amiga 'Classic', OS4, MorphOS, and AROS, including some PD software for these systems, all on the Readers' cover CD.

A detailed description of the varied content and excerpts of our current issue can be found at: https://www.amigafuture.de/app.php/kb/index?c=13

The Amiga Future magazine is available both as an English and German printed magazine - each issue is printed in FULL COLOUR - directly available from our magazine editorial office and from various other Amiga dealers.

Important Notice!

All our Amiga Future subscribers should check that both your current postal and email addresses for you are correct that has been supplied by you to us.
The Amiga Future gets packed and shipped a few days prior to its actual release date. So, we need any change/correction to your address to be passed to us before we dispatch it, and in any case as soon as possible.
Bear in mind that: Usually requests to forward on mail will not be handled with such mail items, i.e. magazines!

We also ask that you check that your subscription fee(s) are current and up to date, i.e. already been paid, as some, in fact quite a few, subscription fees are still not currently fully paid.

Preview: https://www.amigafuture.de/app.php/kb/index?c=13
Orders: https://www.amigashop.org

https://www.amigafuture.de
http://www.apc-tcp.de


Post comment
Chat client Pidgin 2.13.0r2 for AmiCygnix released
software OS4 posted by CygnusEd on 19-Jun-2022 15:31:51 (382 reads)
The chat client Pidgin 2.13.0 release 2 is now available on OS4-depot. Pidgin supports many protocols, which can be used
at the same time.

New in this package:

Update of the SSL/TLS layer GnuTLS to version 3.7.3.
The Facebook plugin did not work anymore. Has been fixed.
Update of the Skype plugin to version 1.7.
Update of libotr from the OTR plugin (Off-the-Record Messaging) to version 4.1.1.
New Slack plugin (untested).
The Discord plugin is currently not working!
Spell checker updated.


Supported protocols:

1. Pidgin package:
- AIM
- Gadu-Gadu
- Google Talk
- GroupWise
- ICQ
- IRC
- SIMPLE
- Sametime
- XMPP / Jabber
- Zephyr

2. Third party:
- Discord
- Facebook
- Skype (HTTP)
- Slack
- Twitter

Links:
Download: pidgin.lha
Homepage: http://www.pidgin.im
Snapshot:

1 comment
ZitaFTP Server v1.33 - Free Automated SSL Certificates
Amigaworld.net News posted by Hans on 21-Jun-2022 9:46:02 (448 reads)
ZitaFTP Server v1.33 is out now.

This update comes with one major new feature: it can automatically get an SSL/TLS certificate, and renew it for free. Setting up an internet-accessible FTP server just got easier...

Click here for more.
1 comment
Rave audio editor released for AmigaOS4
software OS4 posted by Trixie on 22-Jun-2022 14:55:07 (444 reads)
The first public version of the Rave audio editor has been released for AmigaOS4. The program can be downloaded from OS4depot.

REQUIREMENTS:
- AmigaOS 4.1 Final Edition Update 2 or newer.
- Enhancer classes (toolbar.gadget, infodata.gadget, select.gadget, shared.image) from a recent Enhancer Software suite or from the free Enhancer Software Core package.

FEATURE OVERVIEW:
- A modern, configurable graphical user interface (GUI).
- A tabbed environment for managing multiple projects from within a single program window.
- Asynchronous operation: performing a task in a project doesn't block the other projects.
- Support for multiple clipboard units.
- Modular design with an object-oriented plugin system, which makes the program easy to extend.
- A wide range of supported audio file types and formats.

Documentation for the program is included in the distribution archive, and can also be viewed online.
3 comments
REV'n'GE! is a fanzine that mainly reviews games on vintage platforms. In this issue you can focus to read Flight simulators "Overlord" and "F-19 Stealth Fighter".
For recent games you can read "Empire Strikes Back" and "Mix"

source:
https://sites.google.com/view/revenge-fanzine/home-page

Post comment
Announcement: Amiga Future's 'Special Edition' for the "Amiga 37" event
Announcement posted by AndreasM on 10-Jun-2022 11:24:08 (340 reads)
Intense planning for the project has been ongoing for many months, but we wanted to wait until everything was finalised before we announced it publicly.

That is, that there will be a 'Special Edition' of the Amiga Future for the Amiga 37 event.

This 'Special Edition' will contain all the information you need to know about the Amiga 37 event. Which includes the hall layout plan for the event, its schedule, some voucher codes (e.g. Amiga Forever, C64 Forever), background information on the Amiga 37, interviews with the organisers of the Amiga 37 event and much, much more.

All the articles to be published in the magazine will be in German and English.

The magazine will be available free of charge for all Amiga 37 visitors directly at the entrance to the event.

The 'Special Edition' is being provided by the Amiga 37 team in co-operation with our Amiga Future magazine editorial team.
The entire issue is financed through advertising and APC&TCP, and in this context we are still able to offer companies page-space to advertise in this 'Special Edition'.

If you are interested in your business being part of the 'Special Edition' Amiga 37 magazine, then please contact us without delay as page-space is limited, so we can advertise what you need to enhance your business at this fantastic event.

https://amigaevent.de
https://www.amigafuture.de
http://www.apc-tcp.de
Post comment
Amiga Future monthly News May 2022
News posted by AndreasM on 30-May-2022 10:04:36 (618 reads)
1.5.2022
********
APC&TCP has now been active for 30 years

The APC&TCP computer club was founded more than 30 years ago, do any of you know exactly when?

As one of the largest Amiga clubs worldwide, the question of how to better support all the programmers in the club came up relatively quickly. As our members produced some really good programs and games, but they all voiced their opinion that they weren't very happy with the commercial contracts that were offered by major publisher. After long deliberations, APC&TCP sales was founded in May 1992.

The main task of sales was to market the club members' software as effectively as possible.

The first software titles released through APC&TCP were; Databench and 1990. Other titles such as Kargon, Jaktar, Flyin High, Pinball Brain Damage, and many others, followed on relatively quickly by even more. More recently, APC&TCP has released software titles for the Amiga such as Roadshow, CygnusED, RESHOOT R, Tiny little Slug, Trap Runner, and there are other products that are already in their 'starting blocks'.

Some time ago a shareware series was released, which comprised of a few dozen shareware titles that were marketed here by club members. Incidentally, APC&TCP blossomed relatively quickly into one of the cheapest PD diskette dealers in Germany.

Initially there were also a number of third-party products in the range, which were mainly sold to club members. Though relatively quickly after that our range of goods reverted to being only our own products that were offered, apart from a few exceptions. One of those exceptions, by way of example, is the LOAD from VzEkC e.V. Issue 8, which will soon be available in the APC&TCP online shop.

For many years, the NoCover floppy disk club magazine was also distributed through APC&TCP. Incidentally APC&TCP has been publishing the print magazine Amiga Future for over 20 years, and what's more, the Amiga Future will be reaching its 25th anniversary in January. Yes, the Amiga Future magazine is still being printed. :)

Over the years, in addition to the many software titles released through APC&TCP, there has also been a whole range of merchandise produced by APC&TCP: such as, posters, mouse pads, mugs, stickers and much, much more.

APC&TCP also took over the distribution of the Amiga Joker magazine, issues 17 and 19.

Recently the VD Aktuell has also become available through APC&TCP.

Over the years APC&TCP has remained very active, in many areas, though generally that is in the background, without Amiga users really being aware of their involvement. For example, APC&TCP took over the advance ticket sales for the Amiga trade fairs from ICP. So, it was a natural step for APC&TCP to present the Amiga at Gamescom in a show area of approx. 100 square metres.

APC&TCP will be there, yet again, at the Amiga 37 in the autumn of 2022 and is also assisting the organisers to make the venture a success, as usual, in the background.

Over the last 30 years, APC&TCP has released over 200 products for the Amiga, and there are also 125 NoCover issues. Additionally approx. 140 German and 80 English Amiga Future magazine issues have been printed during that time.

After 30 years, APC&TCP actually seems to be one of the largest software publishers for the Amiga with a current 6-digit annual turnover. From which no-one has become super-wealthy here, it's just that the Amiga is simply great fun to use. :)

Our main goal, currently, is to reach our 50th year anniversary, which would be something to really celebrate. In addition, we are always searching for entertaining games and applications, and where its programmer is also looking for a fair and reliable publisher. One of the great advantages of APC&TCP is that a programmer can have their say as to any choice of packaging, which is also one of the reasons why APC&TCP does not have any standardised or similar packaging from one product to another.

If you are one of those gifted, and interested programmers, then please send an email to: Andreas@apc-tcp.de
1 comment | Read more

AmiSSL v5 is now available for AmigaOS 3.x and 4.x. It brings OpenSSL 3.0 support to AmigaOS, including a built-in HTTP(S) client which we hope will be useful to developers. Applications using previous AmiSSL versions will not automatically start using AmiSSL v5, as they will need to be recompiled with the new SDK first (due to changes in the OpenSSL 3.0 API which break compatibility).


3 comments | Read more
REV'n'GE! is a fanzine that review old games on vintage platforms.
The two games that i choose to put in the cover are Advance Destroy Simulator for Amiga and Nautilus per Atari ST.
Old hardware review is about Colorburst graphic board and a simple page if fpu in videogames it is true or a legend.

Good Reading

source:
https://sites.google.com/view/revenge-fanzine/home-page


1 comment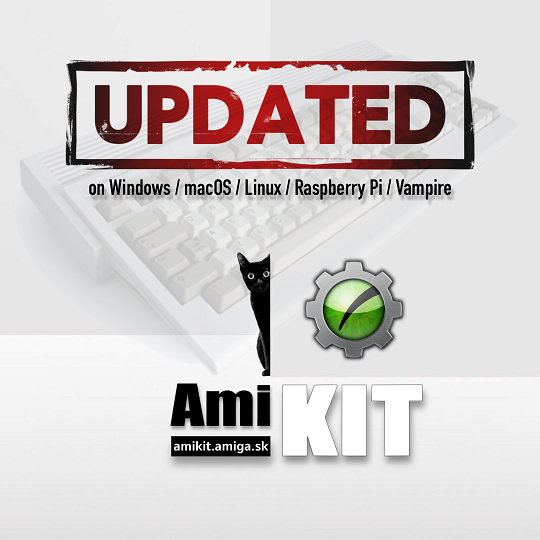 AmiKit, the high-end Amiga experience package, has been updated on all platforms.
I hope you enjoy it as much as I enjoyed creating it. --Ján

WEBSITE: www.amikit.amiga.sk
CHANGELOG: bit.ly/amikitx-changelog


WHAT IS AMIKIT?

- AmiKit turns your computer into a powerful Amiga desktop. It includes 400+ apps and retro games.
- We've done all the hard work for you. Everything is pre-instaled and pre-configured & ready to use out of the box
- AmiKit runs super fast on your Windows, Mac, Linux or Raspberry Pi thanks to WinUAE/Amiberry emulator
- Enjoy your beloved Amiga computer in a modern retro power suit!

NOTE: For AmiKit to work you do need original Amiga Operating System files (Amiga Forever is recommended​).
4 comments
[ home ][ about us ][ privacy ] [ forums ][ classifieds ] [ links ][ news archive ] [ link to us ][ user account ]
Polls (Login to view/vote)