Your support is needed and is appreciated as Amigaworld.net is primarily dependent upon the support of its users.




Topic
Replies
A week in AROS... (1, 2, 3)
49
Amiga Multiprocessing in early 1990
18
For UK users: Bid of massive lot of Mac G5 machines.
0
New Amiga Game: Help My Cat!
17
The First $9 Computer (1, 2, 3, ... , 6)
116
Morphos X86 (1, 2, 3, ... , 7)
123
What Shall We Do with a/the Amiga Sailor?
6
An easy test to lock up IBrowse on OS4!
9
Amiga shop
2
Morphos 3.8 (1, 2)
20
»» Recent Topics »» Visit Forums



Assembly Summer 2015 demoparty will be organized 30. 7. - 2. 8. in Messukeskus, Helsinki, Finland.

Difference from previous years is, this year there won't be an Oldskool demo competition.

Why? This year, there will be only (oldskool) Amiga (and the usual newskool compos, of course) in celebration of 30 years of Amiga.

(Of course, demos for any other platform that doesn't fit Oldskool Amiga or Newskool can be entered to Wild Compo instead)

Assembly Summer 2015 Oldskool Info intro
Official homepage
Assembly demoparty has been organized since 1992.
Post comment
AmigaOS Doc Wiki and Amiga DevCon 2015
Announcement posted by ssolie on 22-May-2015 19:05:33 (277 reads)
A-EON Technology acquires Ringhio Messaging System
software Classic posted by amigakit on 22-May-2015 16:11:13 (879 reads)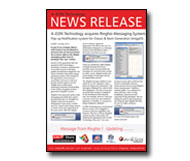 A-EON Technology acquires Ringhio Messaging System
Cardiff, 21st May 2015

As part of our strategic alliance with ACube srl we are pleased to announce that we have purchased the exclusive rights to the Ringhio messaging system from its developer Max 'm3x' Tretene.

As part of the agreement Max has granted A-EON Technology a worldwide, exclusive, perpetual and irrevocable licenses to develop, publish and distribute Ringhio for the Classic and Next-Generation Amiga operating systems. Also included in the agreement is the exclusive ownership to all source code and binaries and the right to use the Ringhio name in all product marketing, promotion and branding of the Classic AmigaOS and Next-generation AmigaOS versions.

Ringhio is the advanced system wide messaging and notification system developed by Max for AmigaOS 4.1. Ringhio, which has has been in development since 2009, is Italian word for "growl" and in many ways it is similar to the OS X application of the same name. With the Ringhio server running, registered applications can inform the user via notifications displayed in a small pop-up box on the Workbench that a particular event has occurred.

These are sometimes called Ringhio messages because the server provides means through which the messages are communicated visually (in other words, Ringhio handles the actual display of messages sent by the Application Library).

18 comments | Read more
A-EON Technology and ACube Systems strengthen strategic alliance
Amigaworld.net News posted by amigakit on 22-May-2015 16:15:02 (828 reads)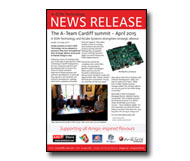 A-EON Technology and ACube Systems strengthen strategic alliance
Cardiff, 21st May 2015

Following a series of meetings held over three days in late April at A-EON Technology's Cardiff headquarters, the two companies agreed a joint development plan to ensure the future of Classic and Next-Generation Amiga hardware and software development. In particular they agreed a new hardware and software development roadmap which both companies will jointly fund and support. Their plans include a series of exciting new hardware and software projects starting with the Minimig Plus, an updated version of ACube System's highly successful Amiga 500 FPGA implementation, based on Dennis van Weeren original design concept.

During the summit the companies also visited Ultra Varisys, the developers behind A-EON Technology's Nemo and Cyrus 64-bit PowerPC motherboards, to discuss future hardware trends and opportunities. Max Tretene, ACube's technical guru commented, "During our meetings we had very good MiniMig Plus prototype ideas about near future hardware and software development, really can't wait to realize all of them." While Enrico Vidale, ACube's business manager added, "This strategic alliance can only be good for the whole Amiga community."

Meanwhile A-EON Technology's Managing Director, Matthew Leaman commented, "The combined technical and financial resources of A-EON & ACube should help secure future success." Trevor Dickinson added, "I'm more optimistic now about the future Amiga scene than I have been for a very long time. All I can say is, bring it on!"

note: the full press release is available here.
14 comments
The Word Me Up XXL 1.61 is now available for amigaOS 4 enabled computers.

New features:
- Fixed bad display on "Help" and "about" screens (bug revealed by AmigaOS 4.1 FE).
- Compilation with the latest SDK.

This update is free for all people that have already bought the game. Others can buy the game online.

Don't forget to register your copy to get updates if you don't buy game via our webshop. And always send us your new e-mail if it's updated.

An email was sent to all registered users. If you have not received it, please check your spam filter. We strongly recommend to add boing.attitude[at]free.fr in your address book.

You can dowload a free updated demo containing 8 of the 64 game levels here.

With WordMeUp XXL, take fun!
Post comment
Next SCCAN meeting - Saturday, May 23
Events posted by RobertB on 21-May-2015 3:04:00 (121 reads)
Happy month of May, C= and Ami comrades!

The next meeting of the Southern California Commodore & Amiga Network is Saturday, May 23, from 2 to 4+ p.m. at

Panera Bread Restaurant
19662 Nordhoff Street
Northridge, California
(818) 407-9400

For this meeting, the MCC-216 (Multiple Classic Computer) will return with its Amiga, C64, Atari 2600, and Spectrum emulations. The Amiga 3000 also returns with its OS 3.1, 4 gig SCSI hard drive, and ZorRAM board which gives an extra 256 megs of Fast RAM. On the C64 side, we'll look at MMC64 cartridge with MP3@64 board. For the VIC-20, we'll try out the 2015 games, Knossoss and Scrap Yard Scrapes. For the Plus/4, we'll try out newly-released PetDraw.

We'll discuss Maker Faire which took place last weekend, the upcoming Commodore Vegas Expo with special guests, Leonard Tramiel, Bil Herd, and Mike Battilana; and the upcoming Amiga 30th Anniversary celebration.

Bring anything you'd like to share to the meeting!

Truly,
Robert Bernardo
Southern California Commodore & Amiga Network
http://www.sccaners.org
Post comment
Next FCUG meeting - Sunday, May 24
Events posted by RobertB on 22-May-2015 7:52:23 (98 reads)
Happy 3-day weekend, C= and Ami aficionados!

The Fresno Commodore User Group has its next meeting from 11 a.m. to 2+ p.m., Sunday, May 24 at --

Bobby Salazar's Mexican Restaurant
2839 North Blackstone Ave. (corner of Blackstone and Michigan)
Fresno, California

Once again we'll discuss the July 18-19 Commodore Vegas Expo, now with the addition of special guests Leonard Tramiel, son of CBM's Jack Tramiel; and Mike Battilana of Cloanto's C64 Forever and Amiga Forever. Also we'll discuss last weekend's Maker Faire 2015 and the July 25-26 Amiga 30th Anniversary celebration in California. I'll provide a brief report on Commodore and Amiga at Maker Faire, along with pictures and a short video.

For the third month in a row, we continue our celebration of the 30th anniversary of the C128. We'll look at some C128 and C64 video from the classic Computer Chronicles television show. Then we'll look through Basic 8 and IPaint C128 graphics, courtesy of the GEnie Commodore File Library at CBMFiles.com. Not forgetting Geopaint 128 graphics, we'll boot up Geopaint 128 to look at its abilities.

In other business, we'll listen to MP3 music streaming from the MP3@C64 module on the MMC64 cartridge. We'll play with the Amiga CDTV and games Wrath of the Demon, Lemmings, and Defender of the Crown II. Member Vincent will bring his VIC-20, and I'll bring Peter Hanson's expanded Plus/4 again.

Commodore life is good,
Robert Bernardo
Fresno Commodore User Group
http://www.dickestel.com/fcug.htm
July 18-19 Commodore Vegas Expo v11 2015
http://www.portcommodore.com/commvex
Post comment
AmiJAM 2015
Events posted by ssolie on 19-May-2015 3:55:54 (276 reads)

AmiJAM 2015 is Saturday, May 23 in Calgary, Alberta, Canada.

There will be plenty of Commodore and Amiga systems on display by our club members including Commodore 128D and AmigaOne 500 systems.

See the AmiJAM 2015 Web Site for more details.
3 comments
Ask Me Up XXL 2.3.0 released on AmigaOS 4 and MorphOS
Software News posted by Glames on 18-May-2015 13:49:02 (306 reads)
Ask Me Up XXL 2.3.0 is now available for AmigaOS 4.1 and MorphOS computers. Play alone and share your high scores with your friends or play simultaneously with five players, it's up to you!

Read more
New U-boot 2015.a for Sam460/AmigaOne 500
Amigaworld.net News posted by m3x on 18-May-2015 8:45:41 (1101 reads)
A new U-boot 2015.a for Sam460/AmigaOne 500 is available from our online shop.
These are the new features:

- new redesigned GUI with an 'amiga' style, enabled via Menu->Video Options->Console->Silent
- unified support for Sam460ex and Sam460cr boards
- support for USB EHCI, now booting from a SD card is very fast
- better support for USB devices
- removed 2 GB limit for USB sticks
- better compatibility with newer Radeon HD graphic cards
- introduced a new menu entry to change the x86 gfx BIOS emulator accuracy. If your graphic card
show some visual problems on startup, try increasing the x86 BIOS emulator accuracy
- new DDR2 boost settings: read, write, read + write (up to 5% speed increase on reads and up to
10% on writes)
- DDR2 boost setup done from a new menu entry
- added support for old Permedia2 graphic cards, for 'history' reasons

- added 'ping' command
- corrected a bug in the serial port GPIO configuration


13 comments | Read more
[ home ][ about us ] [ forums ][ classifieds ] [ links ][ news archive ] [ link to us ][ user account ]
Polls (Login to view/vote)